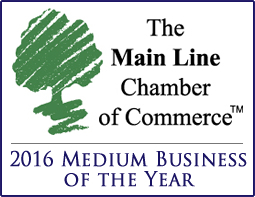 June 23, 2016
BROOMALL, Pennsylvania (June 23, 2016) – The Main Line Chamber of Commerce honored Partner's Consulting with the 2016 "Medium Business of the Year" award during its 16th annual Celebration of Business Leadership luncheon. The ceremony was held at the Desmond Great Valley Hotel and Conference Center, and took place along with the celebration of the Leadership Main Line class of 2016.
"The single most important word relating to our business is 'Partnership.' Our President, Peggy Gionta, always says you should set your business standards based on your personal values; if you're happy at work everything else will fall into place. Peggy leads by example. She named her company 'Partner's' because this truly is the only way that she wants to work. It's been through successful partnerships with our employees, our consultants and our clients that we've built our expertise and experienced tremendous growth over the past 10 years, and it's through the mutual respect that we've developed by working as partners that we will continue to grow and succeed," said Matt Robbins, Sales Manager of Partner's Consulting, who accepted the award on behalf of the company.
Partner's Consulting was celebrated for its growth, entrepreneurial spirit and commitment to organizations that are devoted to women's initiatives, increasing awareness of STEM (Science, Technology, Engineering and Math), and supporting underserved women and children.
The Main Line Chamber of Commerce's mission is to enable members to succeed, promote economic growth in the region, develop an informed business community, and enhance the quality of life on the Main Line. The Chamber represents the interests of more than 900 companies located primarily in the Pennsylvania counties of Delaware, Chester and Montgomery.
Partner's Consulting is an award-winning IT consulting company based in the Philadelphia area that provides Professional Services on "The Business-Side of IT," focusing primarily in Project Delivery. Established in 2006 by Peggy Gionta, and designed to be a true connector, Partner's Consulting's reputation for high quality service and commitment to a thorough, personalized process stems from its core value of Partnership. As a certified woman-owned business, clients and consultants alike are proud to partner with a company that truly celebrates diversity in the IT industry.
###