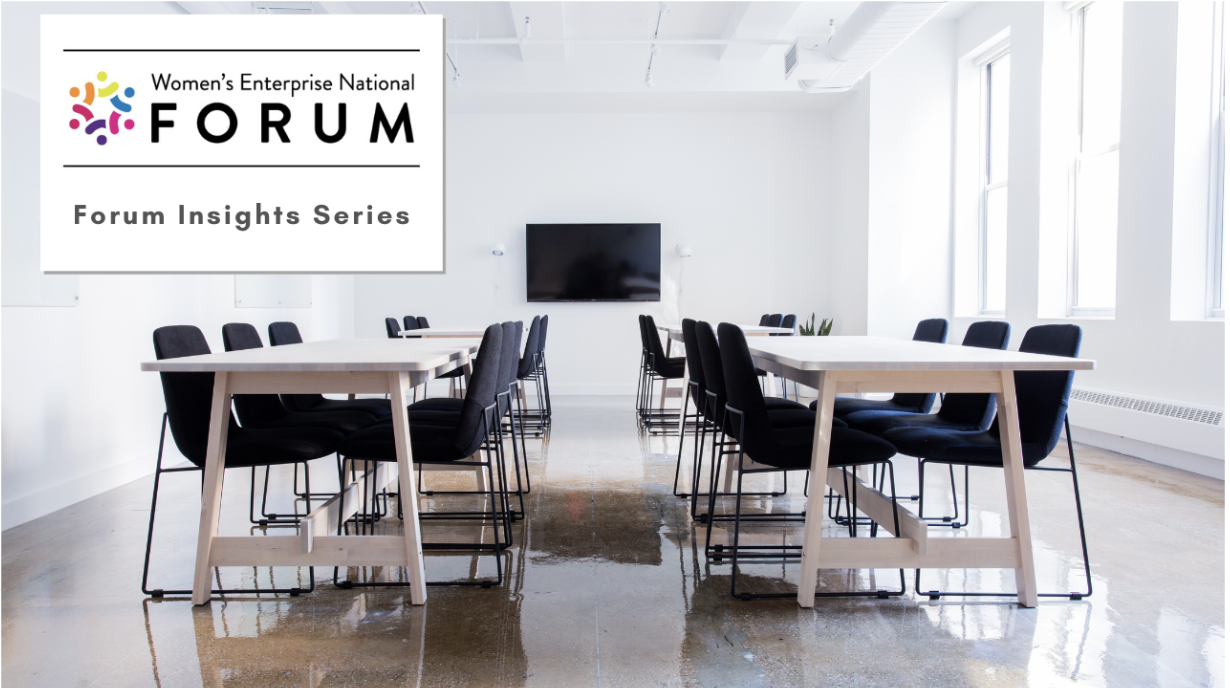 June 30, 2023
This past June, Partner's Consulting Founder and President, Peggy Gionta, participated in a panel discussion hosted by the Women's Business Enterprise National Council (WBENC) on the topic of "Sponsorship vs. Mentorship – Engagement for Business Growth".
The event, held on June 22nd, featured female industry leaders Kate Kelly (WBENC), Michele Adams (Levy Recognition), Dee Marshall (Diverse and Engaged), Chanel Christoff Davis (Davis, Davis, & Harmon Tax Experts), Laura Taylor (WBENC) and Peggy Gionta (Partner's Consulting, Inc.). Corporate Sponsors on the panel were: Jessica Schultz (JPMorgan Chase) and Ajamu Johnson (Comcast NBCUniversal).
Through their forum, sponsorship was revealed as a holistic endeavor that goes beyond corporate structures, driven by a human desire to help and support one another. Sponsors, as discussed, are those who champion women even in their absence, making strategic introductions, securing seats at influential tables, and amplifying their achievements. These relationships are built organically, based on curiosity and a shared sense of purpose, aiming for the holistic development of businesses. The panel emphasized the importance of these multifaceted relationships in driving business growth and fostering inclusive corporate cultures.
Reflecting on her participation, Gionta stated, "I am honored to have been a part of this important conversation, and I hope that what we said and what we follow up with makes a positive difference in our community." This sentiment embodies her commitment to driving meaningful change.
Partner's Consulting has been at the forefront of driving innovation and excellence in the field of IT Project and Program Leadership. Peggy Gionta's involvement in this WBENC panel underscores the company's commitment to promoting diversity and inclusion, not only within their own organization but also within the broader business community.
About Partners Consulting
Partner's Consulting is the first and only woman-owned Project Leadership company that helps enterprises meet the changing demands of technology.
We pride ourselves on being a high-touch organization that works closely with our clients to accurately identify project leaders whose experience, talents and career objectives make them an ideal match. We also stay actively involved to support both our client and project leader for the duration of the project to ensure their success and satisfaction.
About WBENC
The Women's Business Enterprise National Council (WBENC) is a leading non-profit organization dedicated to helping women-owned businesses thrive. WBENC was founded in 1997 to develop a nationwide standard for women-owned business certification. Since then, the organization has grown to become the largest third-party certifier of businesses owned, controlled, and operated by women in the United States and a leading advocate for women-owned businesses in corporate and government supply chains.
A 501(c)(3) non-profit, WBENC partners with 14 Regional Partner Organizations to provide its world-class standard of certification to women-owned businesses throughout the country, and offers programming and resources to help women-owned businesses thrive.