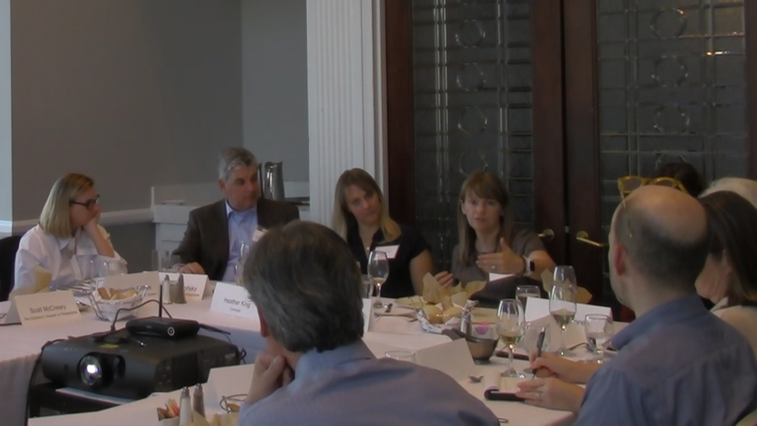 May 23, 2019
BROOMALL, Pennsylvania (May 23, 2019) – Partner's Consulting, a local woman-owned company specializing in the IT program and project leadership space, hosted an exclusive PMO/ PPM Director's Dinner last week at the Pyramid Club in Philadelphia with some of the largest corporate players in the region, including Comcast, Johnson & Johnson, CHOP, Jefferson Health System, AstraZeneca, Avantor and The University of Pennsylvania Health System.  The evening's featured speakers were Joanne Sibony, Vice President, Program Management – Technology & Product at Comcast, and Jonathan Walsh, Senior Director, Enterprise Portfolio Management Office at Johnson & Johnson.
Peggy Gionta, President and Founder of Partner's Consulting, began hosting these meetups five years ago as a way to facilitate networking and knowledge sharing between thought leaders in the area, covering topics such as Agile, resource utilization and capacity planning, change management, and portfolio management and prioritization.
"I wanted to provide a sales-free environment where Project/ Program Portfolio Delivery Leaders could come together with no hidden agendas or incentives other than to share their experience and pain points and just have a sounding board as a way to stay ahead of changing technology trends," Ms. Gionta explained.  "We started seeing a lot of companies moving away from the traditional PMO and we knew we had an opportunity to learn firsthand and understand from a recruiting perspective what this meant in terms of what kinds of resources we would need to provide to our clients, as well as delivering value to people who were all in the midst of trying to navigate this new shift."
Ms. Sibony has played a pivotal role in launching digital cable, VOD, HD and ITV at Comcast – virtually every significant innovation since digital cable arrived on the scene.  "I have known Joanne since my company first started working with Comcast in 2013,' explained Ms. Gionta.  "There is so much we can all learn from Joanne- her expertise in leading and transitioning teams from Waterfall to Agile coupled with her distinctive ability to communicate and educate others is invaluable to other contacts of mine who are experiencing the same bumps and hurdles in their own Agile implementations."
As a key leader on the team that planned, developed and deployed the X1 Product, Ms. Sibony introduced Agile-based development and deployment methodologies and was able to successfully drive a complex platform implementation.  So remarkable was this feat that she was asked to take her learnings from the X1 program and speak with other departments about how to use and apply Agile within their teams.
"Agile models are just guidelines, not rulebooks.  You make it what you need it to be." Ms. Sibony told the attendees.  "You can't walk in and expect that you can plan every piece of it."
As Program lead for the Next Generation Access Network team in T+P at Comcast Cable, Ms. Sibony manages a team who are facilitating the introduction of new infrastructure initiatives supporting Comcast's long-term plan for growth and improved consumer products- a role that is critical to the overall strategic roadmap for the Cable division.  She noted that in many large organizations, making a full shift to Agile simply isn't feasible and ends up being a department- or product-specific activity and/or organizational change. On how to operate successfully and meet exceedingly aggressive delivery expectations in the hybrid space between Agile and Waterfall methodologies as well as driving culture changes for Agile teams without compromising the culture of the larger organization, her expert advice to her peers is "to let your team make mistakes and then be ready to allow for change. The way we do this is we set up frequent check points– overcommunicate with all team members on the 'why'—they have to understand what is at stake—and then allow the teams to make their own decisions."
Jonathan Walsh is the Senior Director of the Enterprise Portfolio Management Office at Johnson & Johnson who ensures investments are based in strategy and deliver the intended business value and outcomes.  In his discussion later in the evening, he shared that the traditional IT shared services model where work is treated much like a production line does not promote the concept of team.  Instead, creating teams that emulate how start-ups operate would help them put problem first and become more outcomes focused.
Similar to the other large corporations in the room, it was widely agreed that no team can solve for a customer's problem they don't understand and haven't tested with.
Terisa Enstad, who is responsible for product deployment at Comcast, explained, "If you don't know the problem you are trying to solve for, you'll never hit the mark."  Mr. Walsh also reiterated the need to allow room for testing and learning, so that you solve a problem that people care about and in a way that is meaningful to them. With the rapid speed of change and innovation affecting every industry, having a "fully baked cake to present at the end" just isn't feasible.  Mr. Walsh's recommendation is that even the largest of corporations need to "take on the venture capitalist mindset when they invest even for its internal initiatives that allows for pivoting".  Working iteratively is essential to uncover innovation and get to success quickly.
For information about attending or sponsoring a Partner's Consulting PMO/ PPM Director's Dinner, please contact Katie Kelly at kkelly@partners-consulting.com.
Partner's Consulting is the first and only woman-owned project leadership company that helps enterprises meet the changing demands of technology.  Based in the Philadelphia area, they have differentiated themselves with Fortune 500 and 1000 clients that care about great project leadership since 2006.
###