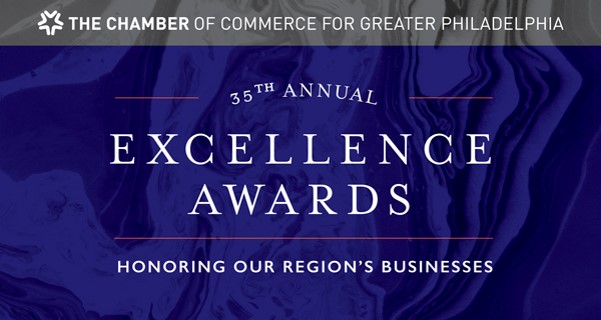 September 6, 2017
BROOMALL, Pennsylvania (September 6, 2017) – For their exceptional leadership, ingenuity and positive impact on the region, Partner's Consulting, along with seven other companies and two individuals, has been selected by The Chamber of Commerce for Greater Philadelphia as winners of the 35th Annual Excellence Awards. The Excellence Awards, which will be presented at the Chamber's dinner on Nov. 9 from 5:30 to 9 p.m. at the Sugar House Casino in Philadelphia, celebrating companies that are making a positive impact in the tri-state region.
"Winning the Professional Services Excellence of the Year Award is an incredible honor, and we are very excited for this recognition.  We have a great team and have been committed to delivering quality results in IT Consulting from the beginning.  We have so much to be thankful for," said Peggy Gionta, President and Founder of Partner's Consulting.  "We became more involved with the Chamber after our client, Comcast, nominated us for the CEO Access Network that was started by David Cohen. I feel that program and the Chamber really helped us springboard into the next level of growth with our large clients in Philadelphia.  The networking and business development opportunities provided by the GPCC have been truly beneficial.  In fact, when our company had outgrown our current office and we were looking for a central location for our sales team, the Chamber helped connect us with Benjamin's Desk, which was co-founded by Mike Maher, a fellow Excellence Award winner. Benjamin's Desk has been providing us with extra work space us as we grow and expand."
The winners of the Awards were nominated by their peers throughout the region based on meeting certain criteria. "Our Excellence Award recipients exemplify the spirit of innovation – although they start small, they make big impacts on our community," said Chamber President and CEO Rob Wonderling. "We applaud the example they set and the enormous contribution they make to our region's economy."
Award categories include:
Professional Services Excellence of the Year:
Partner's Consulting
Customer Service Excellence of the Year:
Green Lawn Fertilizing / Green Pest Solutions 
Family-Owned Business of the Year:
Robertson's Flowers and Events
ImpactPHL Award:
Solar States, LLC
Manufacturer of the Year:
Nielsen-Kellerman Co.
Non-Profit Organization of the Year:
Legacy Youth Tennis & Education
Strategic Growth Excellence of the Year:
Turn5
Technological Excellence of the Year:
Asset-Map, LLC
Small Business Person of the Year:
Steve Wildemann, President & Owner, Advanced Staging Productions
Young Entrepreneur of the Year:
Mike Maher, Co-Founder & CEO, Houwzer
This year's winners join the ranks of notable past Excellence Award Honorees. Past Excellence Award winners have gone on to grow their businesses into the most successful companies in the area.
About the Excellence Awards
In 1982, the Chamber created the program known today as the Excellence Awards, Honoring Regional Businesses. The awards showcase the impact and vital role that small to mid-size businesses play in the overall economic development of the Greater Philadelphia region. Award winners set themselves apart from the competition and are outstanding representatives of the diversity of our region's business community.
Each year, businesses are recognized for their creativity, vitality, stability and relevance. Winners are nominated by their regional business peers based on their demonstrated commitment to the advancement of the business community. Equally important in selecting winners are civic involvement and responsiveness, corporate responsibility, employee recognition and concerns regarding service issues.
Over the years, the scope of the Excellence Awards has grown with the help of the Small Business Board. The Small Business Board has created new initiatives and categories, increased involvement in the nomination process, and established criteria for measuring and defining excellence.
For more information on the 35th Annual Excellence Awards, visit: ChamberPHL.com/EA.
About Partner's Consulting
Partner's Consulting is an Information Technology consulting company with over 11 years of experience in providing professional services to our clients focusing primarily in Technology Project and Product Delivery. Our consultants successfully deliver large-scale technical implementations and technical project support for Fortune 500 and 1000 companies. With hard work, we've built our reputation as a market leader who consistently provides high quality consultants and highly personalized service. Our name refers to our commitment to partnering for mutual success. As partners, our team works thoughtfully and carefully side-by-side with our clients and consultants to ensure a productive and rewarding match. As a certified woman-owned business, we recognize the enormous value that a diverse work team brings.  It's in this spirit that our team has proudly taken the lead to support and encourage women and minorities in gaining the confidence to break into the IT space, further their careers and ultimately increase their presence in the IT industry.  Our entrepreneurial, agile and innovative approach enables us to provide quality and excellence quickly. Our key focus is on delivering technology resources with values, relationships and trust. We apply an executive search style to our recruiting method, making us stand above our competition and creating a unique and lasting culture.
Founded in 2006 by Peggy Gionta, Partner's Consulting has been recognized for its remarkable growth by multiple publications, including the Inc. 5000, Philadelphia 100, Philadelphia Business Journal and Philadelphia SmartCEO, and was named the 2016 Medium Business of the Year by the Main Line Chamber of Commerce.
###