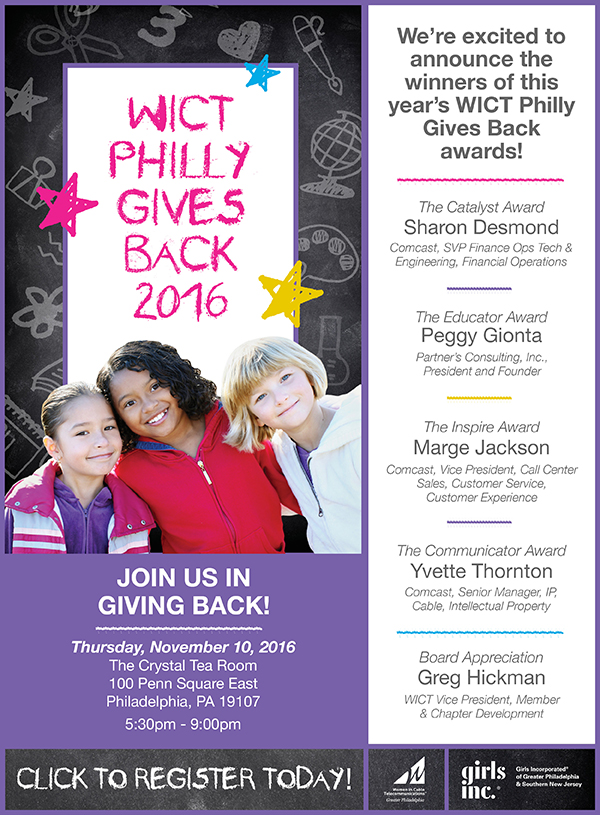 July 17, 2016
BROOMALL, Pennsylvania (July 17, 2016) – The Women in Cable Telecommunications' (WICT) Greater Philadelphia Chapter have announced the winners of the WICT Philly Gives Back (WPGB) awards, which honor female leaders in the Telecommunications industry who embody the spirit and values of WICT and are dedicated to giving back personally and professionally. At this year's WPGB event in November, Partner's Consulting's President, Peggy Gionta, will be presented with the 2016 Educator Award, which recognizes a C-level expert leader and mentor who is committed to her job and champions those around her to achieve the best possible outcome.
"I am honored and humbled to be chosen. I truly have so much respect and am so inspired by the people at WICT and so overwhelmed at being chosen to get this award. Together, we are spreading the word about STEM and making a difference in our community," she said.
Other 2016 winners include Sharon Desmond (Catalyst Award), Marge Jackson (Inspire Award), and Yvette Thornton (Communicator Award), all from Comcast. In addition, this year's Board Appreciation award winner is Greg Hickman. WPGB is an annual fundraising event that raises awareness and support for Girls, Inc., a non-profit youth organization dedicated to inspire all girls to be strong, smart and bold. This year's event will be held on November 10th at the Crystal Tea Room in Philadelphia, PA.
Serving 10,000 members, WICT is the largest and most renowned organization representing women in the cable arena. Since its creation in 1979, its mission has been to create women leaders who transform the industry through training and development programs designed to develop women at every professional level. In addition, WICT advocates for women in cable by commissioning gender diversity research and sharing proven diversity and inclusion tactics that demonstrate the strong benefits businesses realize with a more gender diverse team.
Partner's Consulting is an award-winning IT consulting company based in the Philadelphia area that provides Professional Services on "The Business-Side of IT," focusing primarily in Project Delivery. Established in 2006 by Peggy Gionta, and designed to be a true connector, Partner's Consulting's reputation for high quality service and commitment to a thorough, personalized process stems from its core value of Partnership. As a certified woman-owned business, clients and consultants alike are proud to partner with a company that truly celebrates diversity in the IT industry.
###