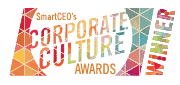 December 17, 2015
BROOMALL, Pennsylvania (December 17, 2015) – Philadelphia SmartCEO celebrated 50 companies in Greater Philadelphia that have successfully championed positive, productive and performance-driven corporate cultures, and have worked with their employees to develop impactful practices. The Corporate Culture Award winners were profiled in the November/December issue of Philadelphia SmartCEO magazine and celebrated at a fun-filled event at Radisson Blu.
"The leaders of the companies named to the inaugural Corporate Culture Awards have realized that running a company is more than head count and the bottom line. It's about creating a place where creativity, energy and ideas are cultivated. Through this they are able to not only enhance performance and sustain their companies' competitive advantages but also enrich the lives of those they employ and inspire them to make a greater impact on the world," says Jaime Nespor-Zawmon, president of SmartCEO Events. "We're honored to celebrate with the leaders of Philadelphia's top company cultures and recognize them for building true performance-driven cultures."
More than 300 executives and decision-makers attended the high-energy celebration to honor the 2015 Corporate Culture Awards winners and their achievements. The evening kicked off with a high-energy networking reception, complete with fun activities including ping-pong, a photo booth, a putting green and a basketball shootout. The video-packed awards presentation celebrated Greater Philadelphia's top company cultures for fostering a creative, collaborative workplace that has helped them enhance employee performance and sustain a competitive advantage in the market. Partner's Consulting received special recognition in the Incentives category. Other categories included Workplace Environment, Dispersed Workforce, Philanthropy, Social Responsibility, Going Green and Employee Retention.
Celebrating nearly 10 years providing consulting services in the Information Technology field, Partner's Consulting is a Nationally Certified Woman-Owned Business based in the Philadelphia area. The firm's reputation for high quality service stems from their commitment to a thorough, personalized process and partnership. Their core values are focused on partnering with customers, candidates and co-workers to meet the highest level of professional dedication to their clients' requirements and candidates' talents.
The complete list of SmartCEO Corporate Culture award winners include:
Partner's Consulting, Inc. (Incentives)
AH
Airclic
AnnieMac Home Mortgage
AnswerNet
Apex IT (Dispersed Workforce)
Arraya Solutions
Ascensus, Inc.
Baker Industries
BDP International, Inc.
Beholder Productions
Brownstein Group
Cadient Group
CertaPro Painters, LTD (Philanthropy)
CMI/ Compas
CubeSmart
David Michael & Co.
Dudnyk
eMaint Enterprises, LLC
ExpenseWatch, Inc.
eZanga.com (Workplace Environment)
First Financial Group
Fox Subacute Centers
Garces Group
GBQ
Hope Paige Designs
Insigniam
iPipeline
Joseph Anthony Spa
Medical Guardian
MedRisk
Melior Discovery
MMCO Auto
NEST
NutriSystem
Optimal Sport Health Clubs
Parts Life, Inc.
PCS, LLC
Preferred Sands
Qlik
Republic Bank
RJ Metrics
Scully Company
SEI Investments
SPIN
Sustainable Solutions Corp.
Team Clean, Inc. (Social Responsibility)
TerraCycle
Vertex Inc. (Going Green)
Xelerate, LLC (Employee Retention)
###